Kitesurfing has to be one of the coolest sports on this planet, and Moment 6S is one of the coolest action cameras that liberate your imagination by allowing you to capture situations that seem like fantasies. People always have the desire to present every shoot with a unique perspective. Exquisite yet simple in use, Moment 6S can give you a lot of options for different kind of moving scenes, it is just ideal for kitesurfing! Let's have a look at Thomas De Wispelaere's kitesurfing journey with Moment 6S at Icarus surf club Zeebrugge, Belgium.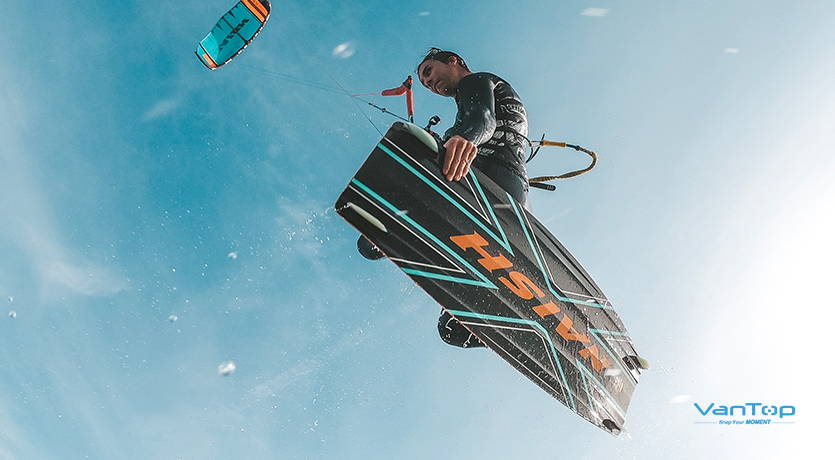 We all have been dreaming about capturing the most creative moment, the versatile Moment 6S let you capture full-frame 4K high-definition video, it is rugged with a solid waterproof case that allows you to dive down for more than 30 meters, burst mode helps you to capture the precious action moment and lapse mode helps to create a cinematic feel. Nevertheless, here are some tips and tricks for making your best kitesurfing shooting experience with Moment 6S:
1, Get your camera set up well before you go out. 
There is nothing worse than finding that you had the camera on the wrong settings after shooting for a while, or your camera hadn't charged well so it died in the middle of shooting.So before get going, double-check if your camera is well prepared and format the SD card if necessary. 
2, Shoot from the right angle and stick to a spot. 
Moment 6S designed to be close up, so if you are filming from the beach/water, you can try to get closer. Shoot from 2-3 meters from your subject is perfect, otherwise you just get a part of the subject rather than catching the entire perspective. Ask your friend where they are planning of doing their tricks, consider the wind and the waves, figure out where they are going to land safely.
From a filming perspective, it is always necessary to think about where the sun is and where are you going to be pointing Moment 6S, as changing in light can either make or destroy the shot, since quick changes from bright to shades can cause some unnecessary video effects. 
3, Move Around. 
Try to get some different angels, get downwind or let them jump over if you really trust their skills. If they keep doing their tricks at the same spot you can change your position accordingly, and it can make for some best shots when things get a bit closer for comfort. Consider of preparing a helmet so that if a board or subject comes flying your way, you've got yourself well protected.  
4, Attach your Moment 6S on anything.
Besides shooting others or get recorded by others, with mounts you can take pictures of yourself by yourself. 
Here are the accessories you should consider for mounting your Moment 6S: 
1,    Chest mount/helmet strap Helps to capture immersive footage your point of view.
2, Seatpost/handlebar/ Pole mount easily out-win a variety of poles for awesome new perspectives. 
3, With sleeve+lanyard you can wear your Moment 6S around your neck, your wrist or attach to your gear. 
4, Line extension can help you to connect your Moment 6S on the kite lines.
5, Have fun! 
Having said all of that, the main thing which keeps us in front of or behind the camera is to have fun, so regardless of what you are doing, just keep that in mind. If someone is struggling with a move and starting to stress out, just kick back and relax. Try something else and come back to it, enjoy the time and take basic shots. It's all good filler if you don't have enough experience for your kitesurfing blockbuster, you can laugh at the stupid clips and crashes with a beer later so it's not a big deal. After all, life is about having fun.